---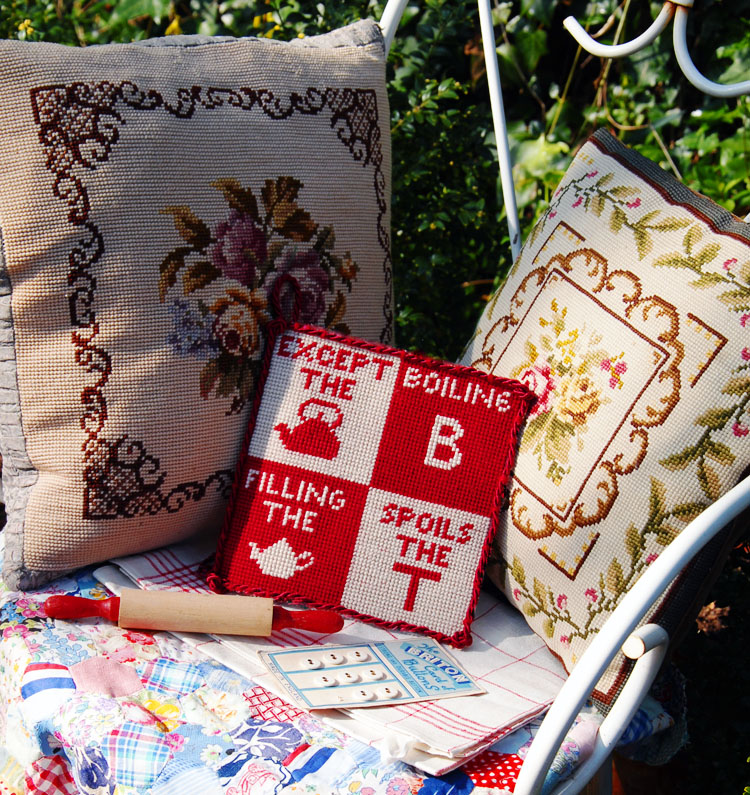 This Victorian design is derived from an antique mat or ' pot holder' that I bought in an antiques market about 20 years ago. I am not sure of the age of the mat I own, but the dyes used are typical of those used in the last part of the 19th Century and the early 20th Century.
My original mat had been stitched in yellow and brown but I have created this version in antique cream and deep red threads. I think it would also look very nice in shades of cream and blue (like the button card at the front of the image). Or why not make your own in colours to match your kitchen?
Little mats like these were backed with a thick material (often a piece of old blanket), hung up in the kitchen and used to hold hot kettle handles.
The mat measures 6.8 inches (17cm) square.
Can you work out what the verse means? It is a traditional verse -
'Except the kettle boiling be, filling the pot spoils the tea'.
It is one of many sayings that instruct people in the best way to make a pot of tea! In other words, the tea will not taste very good unless the water in the kettle is absolutely at boiling point when it is poured over the tea leaves in the teapot.
This mat could be made into a useable pot holder by adding a similar layer of heat resistant material, or just made as a decorative item to be hung up in the kitchen, framed a a picture, or stood on a shelf.
It would also be possible to use this design as the central panel (with a wide plain border) of a cushion. Sitting on a kitchen chair this cushion would look very charming.
The mat is stitched in 10 count canvas in cross stitch for the design and tent stitch for the background. If you are making a decorative item then I would suggest using plastic canvas (as it will hold its shape and stand upright) but it could also be stitched using fabric canvas, particularly if you are going to use it. I think this mat would make a lovely gift for a friend or loved one.
---
NPC20 : 'Except the Kettle' Pot Holder Chart Download
Price £ 2.50
---