---
Old charts, patterns, needlework magazines and original antique pieces of needlework from all over Europe provide inspiration for our needlepoint charts.
---
Our exclusive Cream Tea needlepoint charts have been developed from antique designs, dating mainly from the mid 19th to the early 20th centuries. We offer a wide range of designs suited both to the complete beginner and the experienced needlepointer.
Needlepoint is extremely easy to make, whilst producing very satisfying results. The stitches used in these charts are all very easy to learn and beautiful, heirloom works of needlework can be produced even by novices.
The inserts for the Clippy bags require no stitching of the background ( card or fabric is inserted into the bag pocket, behind the canvas, to provide the background colour) and so these designs are the quickest to make. Even a complete beginner can stitch one of these single colour designs in a few evenings.
And experienced needlepointers will also find many charming and traditional designs in our collection, that are a pleasure to work. The designs can be made exactly as shown on these pages, or can be adapted by you to create your own original projects. We suggest colours to use but of course you can change the colours as much as you wish, to suit your tastes or furnishings.
---
Each download is a PDF document containing the following :-
---
| | |
| --- | --- |
| For single colour designs the designs are charted in a dark shade, so that the squares are easy to see. | |
| | With our multi-colour designs a full-colour chart is provided, with the colours made brighter so that each colour is clearly visible. Where necessary, (with more complicated designs) we provide additional close-up views of some aspects of the chart. |
---
---
Suggested shades for stitching the work. All of these items have been stitched using Anchor tapestry wools, and each shade used is listed in the download. However, the shades used are only a guideline. Follow the colours exactly or alter them to suit your own projects, match your furnishings or (in the case of the bags) to go with an outfit.
| | |
| --- | --- |
| A full list of the colours used are included, with Anchor tapestry wool shades. | |
---
The canvas used for these charts depends on the project undertaken. We recommend either fabric or plastic canvas, depending on the project, in either 7 count or 10 count. Canvas is sold according to the 'count', so 7 count canvas has 7 holes per inch. In each case we recommend which type of canvas to use for the project. Fabric canvas needs to be 'stretched' on completion of the work, (to give the work a neater appearance) and we provide instructions on how to do this. Plastic canvas does not need stretching.
---
For beginners a project using 7 count canvas would be the easiest one to start with. An insert for one of the Clippy bags requires no background stitching, and the canvas needs no preparation on completion (except to cut it to the size of the bag sleeve) and so is a good first project for a beginner.

For an original look more experienced needlepointers might like to add a stitched background. The main design could be worked in cross stitch (for greater emphasis) and the background in tent stitch.
---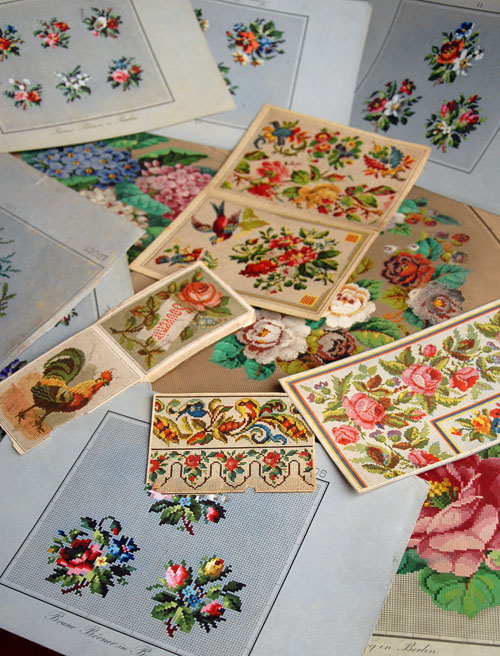 A selection of original Berlin woolwork charts dating from the 19th century, from my collection. Many of the designs in the Cream Tea needlepoint collection have been adapted from Berlin woolwork designs like these.
Berlin woolwork was a hugely fashionable hobby in the Victorian age. For the first time it was possible to purchase printed charts to follow, and yarns dyed in a myriad of attractive colours. The rising middle classes had the time to pursue hobbies and this type of craft became very popular, with works being made to decorate all sorts of furnishings in the home from cushions and curtain pelmets, to rugs and table covers, as well being made into gifts for loved ones. Many a husband or father received a gift of woolwork slippers for a birthday or Christmas present!
The earliest charts were hand painted, including many of the charts here. Each individual tiny square on the chart was hand-coloured in watercolour paint. Gradually, as printing techniques improved, it was possible to colour print these beautiful designs. Some of the smaller charts here (the cockerel chart for instance) are printed.
As is common with these charts, the designs were extremely intricate with many shades of each colour being used for every rose petal or leaf. The Cream Tea charts have been simplified, with fewer colours, to make them easier to stitch.
---
Please note:- All the designs included in our collections are adaptations, rather than simple copies, of these antique designs. In many cases we have added new elements to the designs, merged designs, changed colours, and simplified the range of shades used. Consequently these designs are all our original creation, and the full copyright is owned by us. The charts are sold for personal copying and use only. No commercial or other reproduction of these charts, images or text are to be made in any form whatsoever without our express permission.
---