---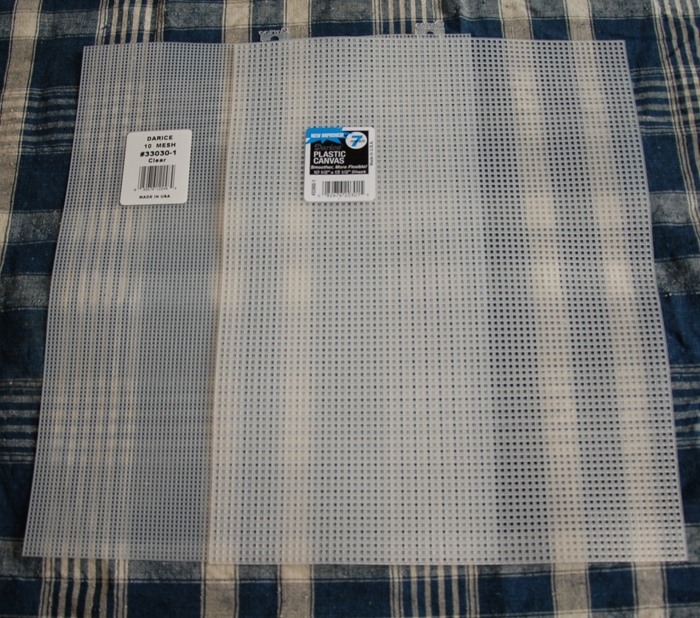 ---
To make some of our needlework projects, (particularly the ones designed to fit the Clippy bags), we suggest using plastic canvas. These plastic canvas sheets are easily cut to fit into the pockets of the multi-pocket bags and the sheets supplied are also ideally sized for working designs to fit the Cover Girl bag, being slightly larger than the Cover Girl pockets.
To make our needlepoint cushions we would use traditional canvas, but for most of our other projects the plastic canvas is an ideal medium. The plastic canvas does not fray whilst being worked, cuts easily to the size required and does not need stretching (as fabric canvas does) upon completion of the stitching.
We highly recommend using Darice plastic canvas, made in the U.S.A. This make of canvas is more smooth and flexible than other makes and is consequently more pleasant to work. It is also fairly clear and so allows for the placing of coloured sheets of card or fabric behind the canvas, with only slight diminution of colour of the fabric or card.
The sheets are 10.5 inches by 13.5 inches in size. We use 2 types of canvas in our designs- 7 or 10 count.
7 Count Canvas has 7 holes to the inch. Each hole is equivalent to one square on our charts.
10 Count Canvas has 10 holes to the inch and is used for slightly finer work. Each of our designs clearly states which size canvas you need to work the design, so please ensure that you choose the correct size of canvas to fit the design.
---
PC7 : Plastic Canvas Sheet. 7 Count
Price £ 1.50
---
PC10 : Plastic Canvas Sheet. 10 Count
Price £ 1.50
---
If you wish to purchase plastic canvas, please email us with the quantity you want, plus your address, so that we can let you know how much the postal charges will be to your location. Thanks.
---