---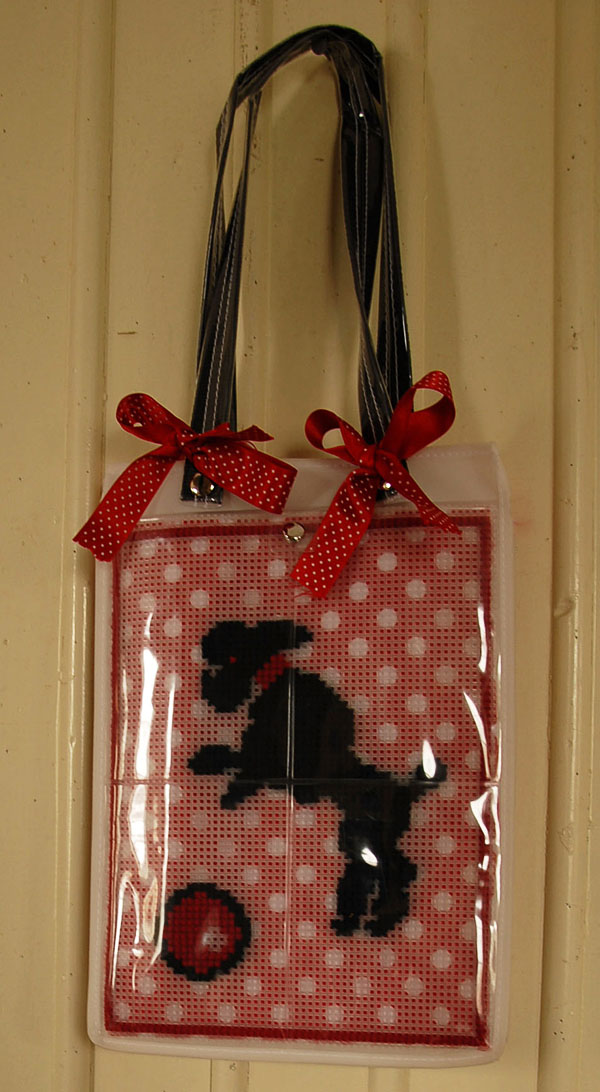 ---
This cute little poodle playing with a ball originated as a filet lace design charted in a French needlework magazine from the 1920's.
I adapted the design to make two different charts - A Single Poodle and A Pair of Poodles. You can purchase each chart singly, or the pair of charts at a discount price.
Each designs fits a Clippy Cover Girl bag pocket and you could make one for each side of the bag. Alternatively they would make a charming pair of cushions.
This particular Single Poodle design is worked on a 7 Count canvas in cross stitch, which gives a slightly 3 dimensional appearance. This stitch is explained in the downloaded materials.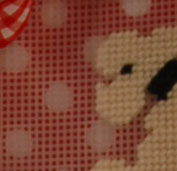 If you are going to make this design for a Clippy bag there is no need to stitch the background, so this design is very quick to make. I left the background unstitched and inserted some bright spotted felt (from a craft shop) and added some pretty ribbons.
As you can see from the image the canvas shows through to give a textured effect, with the material being slightly reduced in colour by the canvas.
You could change the background to a plain colour or a floral or gingham material. I also think that the poodle could be accessorized further with a diamante button for an eye and maybe a sparkly collar!
You can download the chart to work this design by clicking on the link below. The chart comes with instructions for working the design and making it in the correct size to fit the Clippy bag sleeve.
This very simple design is suitable for complete beginners who have never tried needlepoint before.
---
NPC 9: A Single Poodle Chart Download
Price £ 3
---
NPC19: A Single Poodle and Pair of Poodles Charts Download
Price £ 4.50
---