---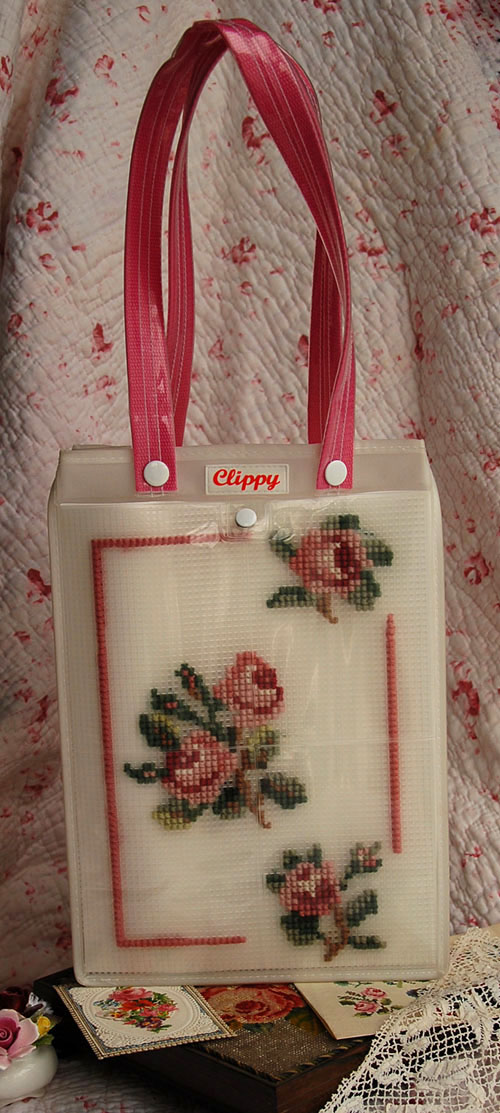 ---
Some years ago, at an antiques market, I bought a small folder containing a collection of Victorian sketches and designs for various needlework projects, lace making etc.
Amongst this interesting group of drawings were a few needlepoint designs hand painted in watercolour. The four small rose designs used here were adapted from these designs.
I think this needlewoman was attempting her own version of the Berlin woolwork designs that were highly fashionable in the second half of the 19th century. You can see the original Victorian sheet in the bottom right corner of this image, just below the bag.
This panel has been designed to fit neatly into the sleeve of a Clippy Cover Girl Bag, but of course it could be used in many ways. Why not make the designs as individual badges (with the background stitched) to sew onto to shopping bag or clothing? Or incorporate them into other needlework projects (a patchwork quilt for instance). And of course they would look sweet as a cushion.
This particular design is worked on a 7 Count plastic canvas, in cross stitch. This stitch is explained in the downloaded materials. Stitching in cross stitch on this plastic canvas gives a raised effect which gives the rose a pleasing slightly three dimensional appearance.
The panel measures 22cm (8.6 inches) by 29.5cm (11.7inches). There is no background to be stitched, just the central motif and so a design like this can be completed in a few evenings.
Once the design is finished a coloured sheet of card, material or foam is placed behind the canvas to provide the contrasting colour. You can change these sheets from time to time to suit your mood or to match your outfit. It is also fun to decorate the finished needlework further by stitching pieces of old lace, buttons, or other accessories to the canvas, to make your own original work of art!
The download below includes instructions and charts for two panels - the front panel containing 3 sprays and the reverse panel (shown below) including one larger rose bud motif.
The Clippy bag and plastic canvas are not included in the download, but can be purchased from our shop.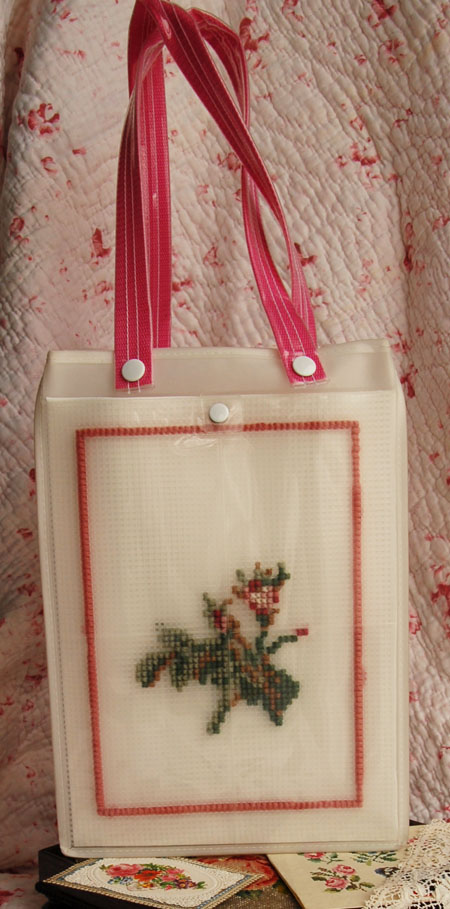 ---
NPC34: Four Rose Sprays Charts Download
Price £ 4
---