---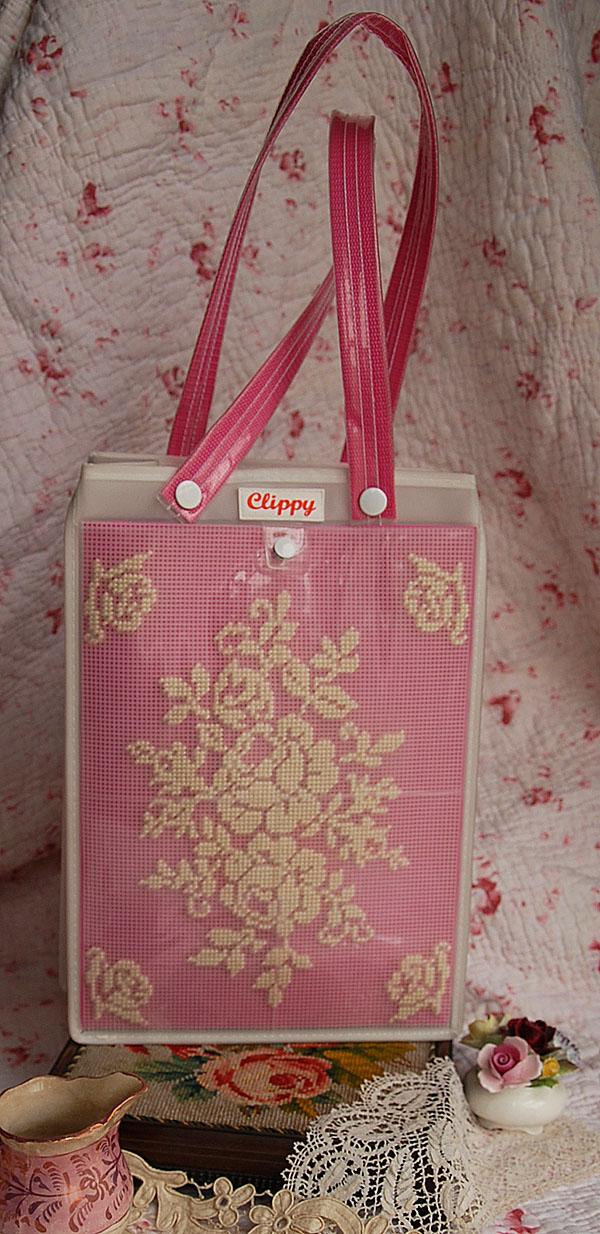 This lovely design of a spray of roses was adapted from an antique filet crochet teacosy. Over the years I have seen a number of similar teacosies featuring this design, so I imagine that the design must have been very popular in the past, probably featuring in one of the ladies magazines of the period.
This panel has been designed to fit neatly into the sleeve of a Clippy Cover Girl Bag, but of course it could be used in a variety of decorative projects.
This particular design is worked on a 10 Count plastic canvas, in tent stitch. This stitch is explained in the downloaded materials.
The panel measures 22cm (8.6 inches) by 29.5cm (11.7inches).
These single colour designs are extremely easy and quick to work and so are very suitable for complete beginners. There is no background to be stitched, just the central motif, and so a design like this can be completed in a few evenings.
Once the design is finished a coloured sheet of card, material or foam sheet is placed behind the canvas to provide the contrasting colour. You can change these sheets from time to time to suit your mood or to match your outfit. It is also fun to decorate the finished needlework further by stitching pieces of old lace, buttons, or other accessories to the canvas, to make your own original work of art.
The download below contains a chart to follow and full instructions for making this item. The Clippy bag and plastic canvas are not included in the download, but can be purchased from our shop.
---
NPC29: Rose Spray Panel Chart Download
Price £ 3
---